Articles for August, 2017
Kirby 100: Nick Fury
1917 to 2017: 100 years of Kirby.
Join us this month to celebrate Jack "King" Kirby's 100th birthday by learning about the characters and stories he created that changed comics forever. To commemorate Jack's centennial, we've sat down with the modern-day creators he influenced—and the decades of work he gifted us all.
Stan Lee and Jack Kirby changed the comic landscape with a quartet of adventurers in 1961. As the decade pushed on, so did they, creating more fantastical super folks than we can count, but in 1963 they introduced the world to a guy who would become one of the most important figures in the Marvel Universe: Nick Fury.
In the midst of the super hero resurgence, Stan and Jack decided to play to both their strengths and launch, of all things, a World War II comic. In a 2005-penned intro to the Marvel Masterworks collection of their run, Lee admitted that he considered these stories some of the best he'd ever written and Jack had ever drawn: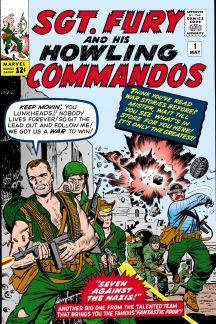 "Maybe I relate to them so much because 'King' Kirby and I both served in World War II," Lee wrote. "Jack was a fightin' infantryman with the Third Army and I was attached to the Signal Corps. We were both discharged in 1945 after three years of service. And I know I don't haveta tell you, it's an experience you never forget."
SGT. FURY AND HIS HOWLING COMMANDOS not only gave the world tough talking Fury, but also his band of misfits, including Dum Dum Duggan, Gabriel Jones, Dino Manelli, Izzy Cohen, Junior Juniper, and Rebel Ralston. Lee said that he took pride in the diversity of the cast, which accurately reflected their experiences during the war.
Of course, Nick Fury wouldn't stay in the 40s forever. In FANTASTIC FOUR #21, he made his first appearance in the modern day, meeting up with Reed Richards who had actually appeared as a pre-Mr. Fantastic scientist in SGT. FURY #3. Not yet sporting his now-iconic eye patch, Fury worked on a case for the CIA at the time. In the next two years, Nick lost an eye and became the head of the Supreme Headquarters International Espionage Law Enforcement Division—or more simply S.H.I.E.L.D.—as seen in 1965's STRANGE TALES #135.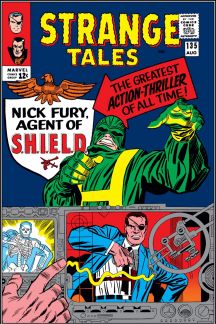 Beyond evolving Fury into Marvel's number one spy—and also its first and last line of defense against any number of threats—Kirby and Lee also introduced concepts like The Helicarrier, Hydra, Life Model Decoys, Zodiac, the ESP Division, and A.I.M., among many others. Just try and think of a long-running Marvel comic that hasn't featured one of those elements—it's no small task!
Stay tuned to Marvel.com for more throughout Kirby Month and beyond! And join the conversation on all of our social channels with the hashtag #Kirby100.
Filed under: Comics

No Comments Top
Inhuman Nature: Oh, The Inhumanity!
Bred by an alien race to be a warrior caste and possessing alien DNA, the Inhumans exist as humans possessed of incredible and otherworldly powers when exposed to the substance known as Terrigen. Living secretly, for the most part, among their fellow man, the Inhumans forge their own destiny as a separate society. Dig into the history of the Inhumans with these Marvel Unlimied comics in preparation for "Marvel's Inhumans" heading to IMAX and ABC this fall!
In the wake of Black Bolt's decision to blow up Attilan and explode the Terrigen Bomb while fighting Thanos in INFINITY, the world changed forever. The Terrigen Mist traveled around the world activating unknown Inhumans – called Nuhumans – and Karnak lost his mind, just for a moment as seen in INHUMANITY #1 by Matt Fraction and Olivier Coipel.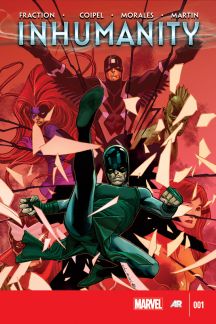 The issue also gave a concise history of the Inhumans. The Kree experimented on Neanderthals 25,000 years ago in an attempt to counteract their own stalled-out evolution. Already many steps ahead, the Inhumans created their own community and built Attilan. Eventually Randac came along and started experimenting with Terrigen Crystals. He realized that his people should have the ability to defend themselves against the Kree should they ever return. Randac subjected himself to the mists, pushing his own evolution to its inevitable conclusion, the same process that's used to this day.
In the next issue, by Fraction and Nick Bradshaw, we learned even as the humans deal with the destruction of Attilan in New York City and the presence of all these new cocooned individuals, the Inhumans remained in the dark about where their children resided after the evacuation.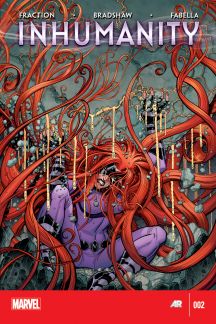 Kicking off an event in and of itself that included a variety of one-shots, limited series' and tie-ins, Inhumanity also lead directly into a new series called INHUMAN by Charles Soule, Joe Madureira, Ryan Stegman, Pepe Larraz and Andre Araujo.
As it turned out, the response to and from the newly created Unhumans proved as diverse as the individuals themselves. Some, like Inferno, joined up with Medusa and her people while others followed the maniacal Lash. Still others tried to avenge themselves against the Royal Family for turning them into unusual creatures.
Over the course of the 14 issue series and the end-cap annual, INHUMAN presented a number of problems for its stars to deal with ranging from Inferno's pregnant sister giving birth and New Attilan's acceptance as a sovereign nation floating right off of Manhattan to The Unspoken's attempted overthrow and Medusa's heel turn during the Axis storyline.
However, the series came to its proper conclusion after all of the various characters made their way to New Attilan – including Reader, Iso and even Ms. Marvel – and fought like mad to keep another Nuhuman, Lineage, from usurping the throne himself. He came very close and might have even succeeded had a presumed dead Inhuman Royal not made a triumphant and very well timed return to save the day.
Like every other series at the time, INHUMAN came to an end with the gigantic Secret Wars event. Black Bolt, and even Maximus, had been working with the Avengers to stop the reality-shaking incursions, but that didn't help much. Black Bolt died as the Ultimate Universe crashed into the 616, just before almost everything ended and God Doom reshaped existence with Doctor Strange at his side. After the heroes returned reality to its relatively normal status, the Inhumans returned themselves with a line of books including ALL-NEW INHUMANS, UNCANNY INHUMANS and KARNAK!
THE INHUMAN CONDITION
During Secret Wars, many realities all came together in the form of Doom's Battleworld. INHUMANS: ATTILAN RISING chronicled the adventures of Black Bolt and Medusa as they worked in direct opposition to one another! She continued leading New Attilan in Manhattan while he ran the Quiet Room – the same place Peter Quill sang at in STAR-LORD AND KITTY PRYDE – as well as the secret resistance group, The Unheard Voice. Meanwhile, another Medusa flexed her follicles along with a group of fellow rad women in the pages of A-FORCE, even proving her devotion for her team by sacrificing her own life to keep the rest of them safe.
With reality restored, UNCANNY INHUMANS, ALL-NEW INHUMANS and KARNAK continued our heroes' struggle!
Filed under: Comics

No Comments Top
Follow the History of Spider-Man Pt. 16
For over 50 years, Spider-Man has been a sensational standout in the Marvel Universe, and this summer, the web-slinger swings onto the silver screen once more in "Spider-Man: Homecoming"! In celebration of his memorable history, we present Spidey's spectacular step-by-step story!
After continuing his battle with Razorback in PETER PARKER, THE SPECTACULAR SPIDER-MAN #14 and wrapping it up with the final defeat of the Hate-Monger in SPECTACULAR SPIDER-MAN #15, our worn-out webbed wonder plunged into an encounter with a returning Green Goblin in AMAZING SPIDER-MAN #176.
While Aunt May lay in a hospital following a heart attack, Spider-Man discovered a war between the Goblin and crime boss Silvermane in AMAZING SPIDER-MAN #177, which escalated in AMAZING SPIDER-MAN #178 to the point that Peter Parker couldn't sign the permission papers for his aunt's much-needed surgery. May finally stabilized in AMAZING SPIDER-MAN #179, but when Spidey saw Harry Osborn kidnapped by the Goblin, he knew his friend's sanity remained intact. In fact, Harry became instrumental in bringing down the new Green Goblin in AMAZING SPIDER-MAN #180 and helped reveal him as Dr. Bart Hamilton, his own psychiatrist.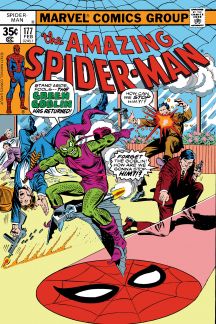 Peter flew to England in MARVEL TEAM-UP #65 and upon meeting Captain Britain, fell into Arcade's Murder World with the local hero in MARVEL TEAM-UP #66. The webslinger battled the Beetle in SPECTACULAR SPIDER-MAN #16, and helped the Angel free his friend Iceman from brainwashing in SPECTACULAR SPIDER-MAN #17 and SPECTACULAR SPIDER-MAN #18.
Kraven the Hunter used Tigra to attack Spidey in MARVEL TEAM-UP #67, and later Peter returned the Man-Thing to the Florida swamps in MARVEL TEAM-UP #68. The mutant Havok tried to contain the Living Pharaoh in MARVEL TEAM-UP #69, but the moldy mummy reinvented himself as the Living Monolith in MARVEL TEAM-UP #70 before being knocked down a peg or four by Thor and Spider-Man.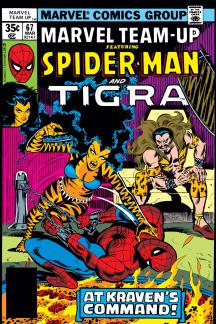 Refreshed in his mission after visiting the grave of his Uncle Ben in AMAZING SPIDER-MAN #181, the wallcrawler suffered the return of the Rocket Racer in AMAZING SPIDER-MAN #182, as well as the arrival of Big Wheel in AMAZING SPIDER-MAN #183. Lightmaster hired the Enforcers to take down our hero in SPECTACULAR SPIDER-MAN #19, but the timely intervention of the White Tiger punched out his lights in SPECTACULAR SPIDER-MAN #20. Later, Spidey teamed with the Falcon in MARVEL TEAM-UP #71, Iron Man in MARVEL TEAM-UP #72, and with the infamous non-team in DEFENDERS #61.
Spidey battled new menace the White Dragon in AMAZING SPIDER-MAN #184 before the monumental moment of his graduation from college in AMAZING SPIDER-MAN #185. Feeling on top of the world, he received news of being cleared of all suspicion of crimes by the District Attorney in AMAZING SPIDER-MAN #186. The Scorpion wanted revenge on J. Jonah Jameson in SPECTACULAR SPIDER-MAN #21, and the webslinger lent a hand to Daredevil in MARVEL TEAM-UP #73, as well as the cast of a certain Saturday late-night comedy show in MARVEL TEAM-UP #74.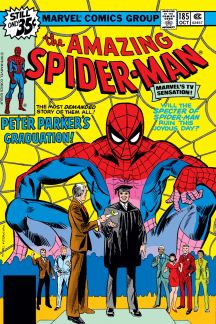 Following a battle with Electro in AMAZING SPIDER-MAN #187 and the Rat Pack in MARVEL TEAM-UP #75, Spidey slugged it out with the Maggia at the side of Moon Knight in SPECTACULAR SPIDER-MAN #22, and fought Cyclone in SPECTACULAR SPIDER-MAN #23. Doctor Strange came calling in MARVEL TEAM-UP #76 and though our young hero escaped the clutches of the Hypno-Hustler in SPECTACULAR SPIDER-MAN #24, he still failed to free himself from the advance of the Masked Marauder and the Tri-Man in SPECTACULAR SPIDER-MAN #25.
Filed under: Comics

No Comments Top
Activists decry Oregon court ruling to 'debark' dogs
Debra and Dale Krein sued in 2012 after enduring years of what they deemed incessant barking by several Tibetan Mastiff dogs owned by their neighbors, Karen Szewc and John Updegraff, court documents showed. A jury awarded the Kreins $238,000, and the presiding judge ordered all the dogs on the property to undergo "total devocalization" surgery. The dogs' owners appealed that decision and the Oregon Court of Appeals on Wednesday upheld the judgment and surgery order.
Filed under: TV

No Comments Top
Entering Marvel Contest of Champions: Kingpin
Taking some time off from his criminal enterprises on Earth, Wilson Fisk sets his sights on Battlerealm and its Black ISO-8. Think Kingpin can hack it in "Marvel Contest of Champions"? We talked to Kabam Art Director Gabriel Frizzera and Character Designer Simon Cameron to learn just that!
Marvel.com: Wilson Fisk is one seriously dangerous villain, but he's just a mere mortal. Does he have what it takes to swindle an Elder of the Universe?
Gabriel Frizzera: Many have committed the mistake of underestimating Wilson Fisk, and ended up at the bottom of the East River. His cunning and brutality are unsurpassed; his physical strength and fighting skills surprise those who think he's just a lumbering obese giant. The Kingpin likes it that way. His enemies never see the beast hiding behind the polite "businessman" facade until it's too late.
Marvel.com: If there's one word for Kingpin's look in "Contest of Champions," it's "classic." I did notice that he's hefting a pretty brutal looking cane here. He's no stranger to getting his hands dirty, but will he be using this weapon in battle?
Gabriel Frizzera: I guess you could call it a cane, but have you seen the size of that thing? It's bigger and thicker than most Champion's legs or torsos. It's more akin to a medieval mace than a gentleman's walking stick. Plus, this is the classic Kingpin accessory, with hidden gas and laser shooters for extra firepower. And sitting atop of it there's a gem of pure Black ISO, powering the whole gadgetry.
Marvel.com: For a villain who's very comfortable manipulating events behind the scenes, what did the team want to focus on for his combat style?
Simon Cameron: Fitting to his nature, Kingpin's combat style is a mix of underhanded manipulation and well-timed aggression. In the manipulation category, he has the ability to convert Debuffs into Rage counters, increasing his attack, and the amount of power he gains during combat. Once Kingpin builds enough Rage, he triggers Overpower, which is where the aggression starts! Overpower gives him a big Fury Buff and makes his Special Attacks un-blockable.
Marvel.com: Let's talk about True Nature. How does it set the foundation for Fisk's other abilities?
Simon Cameron: True Nature lets Fisk start the fight with Rages already stacked up, and gives him a chance to gain several Rage counters when Overpower ends. This provides Fisk with a shortcut back in to Overpower, allowing him to spend more time in his highest damage state.
Marvel.com: And Black ISO-8, what exactly does that do? I mean that's why Kingpin's even in the Contest right?
Gabriel Frizzera: From this day forward, all Black ISO currently in existence is property of Allied Construction, a subsidiary of Fisk Enterprises. Better not ask too many questions, wise guy, if you don't want their "lawyers" knocking at your door at night.
Simon Cameron: For gameplay purposes, Black ISO is a Debuff that causes both Degeneration and Ability Accuracy reduction.
Marvel.com: When do we get to take the criminal mastermind into battle?
Simon Cameron: Wilson Fisk will be entering "The Contest" on August 31.
Stay tuned to Marvel.com and @MarvelGames on Twitter for all the latest on "Marvel Contest of Champions" and more!
Filed under: Comics

No Comments Top
Defenders: Friendly Fire
Vigilantes don't play well with others—especially when one of them happens to be a murderer with only bloody revenge on his mind.
That sums up the relationship between the Defenders and The Punisher in DEFENDERS, written by Brian Michael Bendis with art by David Marquez. And on September 13, issue #5 sees Daredevil, Jessica Jones, Luke Cage, and Iron Fist meet up again with Frank Castle—with tensions running high. Both parties may be fighting on the same side, but their disparate methods lead them on an inevitable collision course.
But before these beloved characters clash, we caught up with Brian Michael Bendis to discuss the oncoming showdown of heroes, his thoughts on "Marvel's The Defenders" on Netflix, and more!
Marvel.com: What can you tell us about Frank's motivations as prepares to take on the Defenders? Aren't they all on the same side?
Brian Michael Bendis: They are on the same side, but Frank seems to know something the others don't. Frank seems more focused on who could be pulling Diamondback's strings—and the Defenders are just figuring out that there might be someone pulling the strings. Frank wants the bigger picture and Luke and company just want to shut down Diamondback immediately.
Marvel.com: The guy with no powers takes on a group with three super powered heroes. How does he pose a threat to them?
Brian Michael Bendis: He is a very smart strategist. Now that he knows what he's up against, you can look forward to some interesting Punisher problem-solving.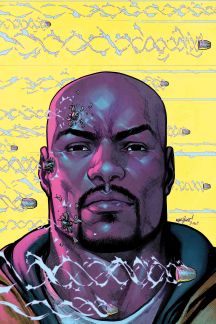 Marvel.com: Can you summarize each Defender's relationship with The Punisher? and what they might have done to get on his bad side?
Brian Michael Bendis: Danny, Luke, and Matt all have a similar relationship to The Punisher. They've all worked the streets for the same amount of time and they've all had run-ins. The moral debate between Matt and Frank is one for the ages and will never be solved. Jessica Jones has not found herself up against The Punisher before—and she's not impressed.
Marvel.com: What your favorite part about pitting all these street-level characters against one another?
Brian Michael Bendis: They all have something very clear that they're trying to accomplish. They have something that they want. And they all have something that they want that the audience can relate to on some level. Everything I'm writing in DEFENDERS is at least loosely based on real life mafia, organized crime, or true crime drama that I've studied over the years. This stuff really happens. This might be the Marvel version of it, but these are loosely based on the stories that have built the foundation of organized crime in this country.
Marvel.com: How would you describe Frank's armed-approach to fighting the team?
Brian Michael Bendis: He's not trying to fight the team. He's trying to immobilize the team so he can finish his task. He has no interest in hurting Daredevil—but he has even less interest in Daredevil getting in his way.
Marvel.com: What's it like to write this comic after the Netflix series just dropped?
Brian Michael Bendis: Surreal doesn't seem to really capture the feeling. There were many years where I sat alone at my computer writing scripts, creating a team dynamic that I always wanted to see. And now millions of people are seeing it. It's crazy. Did I mention that surreal doesn't quite cover it?
Heroes clash in DEFENDERS #5, by Brian Michael Bendis and artist David Marquez, on September 13!
Filed under: Comics

No Comments Top