Section: Comics
'Marvel's Runaways': Meet the Minorus
See the acclaimed comic RUNAWAYS by Brian K. Vaughan and Adrian Alphona be brought to life when "Marvel's Runaways" premieres next week on Hulu. RUNAWAYS follows six teens who find out their parents are part of a villainous cult called the Pride. One of these families are the Minorus, dark wizards who wield the powerful Staff of One.
Marvel.com talked to Lyrica Okano, who plays Nico Minoru, and the Minoru parents, Tina, played by Brittany Ishibashi, and Robert, played by James Yaegashi. We found out about the competitive mother-daughter relationship, and the complications of shutting down your emotions. The Minoru family dynamic is definitely a complicated one.
When tragedy occurs, relationships become strained. Yaegashi talked about the impact it has on the Minorus. "Whenever you have a family tragedy, it affects everybody. It's the storm that's spinning around us that we have to find our bearings in, both in terms of our relationship, as well as our relationship with Nico. When we find at the onset of the story, she's on the verge of really kind of getting out of reach for us. There's a heightened sense of like, we really have to do something."
As the co-founders of Wizard, the Minorus' expertise in tech make them an essential part of Pride. This tech-like, logical outlook is the same approach that Tina Minoru uses when it comes to parenting. Ishibashi explained, "From Tina's perspective, Nico is handling this hardship inappropriately. It's not an efficient way to live if you're just stuck in all this emotion. And she just wears it so outwardly. You just look at her and you're like 'obviously you're going through some stuff.' I just wish that she would maybe contain it a little bit more and move on with her life."
Ignoring emotions never ends well, and Okano puts Nico's feelings into perspective. "Nico, she sees her mom as overbearing and very secretive and not a lot of great things. So that really does push her to group up with the Runaways, with each other. Basically, she doesn't want to be at home. She doesn't want to have to stay at home and do this alone anymore."
The Staff of One is a powerful iconic weapon from the comics and will make its debut appearance in "Marvel's Runaways." Ishibashi talked about the relevance of the item to the Minorus. "We really get to see it's evolution, what's going to be exciting for people to see with the Staff of One is that that mother and daughter are both able to use it. That's a really loaded dynamic. I know that as a mother, and in Tina's relationship with Nico, there is an element that's almost competitive. That thing of when you feel like you're being outseated or replaced or someone is doing something just as good as, or even better than you. But it is cool. To be able to see Nico discover the Staff in this first season and kind of see what that opens up for her, as a person and the world, is really cool."
"The thing with the Runaways that's so cool is that we're all so different," said Okano. "You don't expect a beautiful, perfect Church girl to be the superhero that she is. And for a Japanese-American goth girl to be the superhero that she is. It allows every girl out there to be like 'no, I relate to that character! I relate to that character!' We all have our own strengths and weaknesses that people can relate to and I think it means a lot."
For Okano, she realized that their powers stemmed from their weaknesses. "It's like that in real life. Once we get in touch with what our weaknesses are, we can probably find strength out of them too."
Get ready to run and learn more about the Wilders when "Marvel's Runaways" premieres its first three episodes exclusively on Hulu November 21! Be sure to follow @Runaways on Twitter and like the official "Marvel's Runaways" Facebook page!
No Comments
Top
Flashback Friday: Sakaar
Every Friday we use the powers of Marvel Unlimited to look back at the very first appearance of a major character, place or object that made waves this week.
Amadeus Cho intends to avoid many of the same pitfalls that Bruce Banner fell into over the years as Hulk. However, with this week's INCREDIBLE HULK #710 we see him fully embracing a place that meant a lot to his Jade Giant predecessor: Sakaar.
Back in 2006, the heroes of the Marvel Universe – specifically Iron Man, Reed Richards, Black Bolt and Dr. Strange – got fed up with the Hulk and decided to send him off to a planet where he couldn't hurt anyone and he could finally get the solace he claimed to want.
Instead, as seen in INCREDIBLE HULK #92 by Greg Pak and Carlo Pagulayan, he got sucked through a strange portal and ended up on a planet called Sakaar where the locals immediately enslaved him and he soon started fighting in a gladiatorial arena.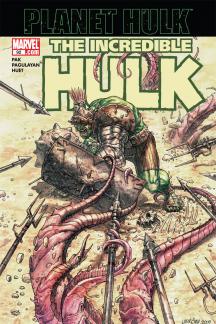 In those battles, Hulk met a group that would become known as the Warbound, who would help him first escape from the Red King and then eventually take over as king himself. Along the way, Hulk fell in love with a Shadow warrior named Caiera, who would have borne him twins, had a catastrophic accident not seemingly killed her.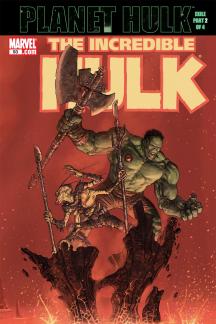 The ship that Hulk's "friends" sent him off on exploded, apparently by accident, but not. The resulting explosion tore through Caiera and many others, leaving a large chunk of Sakaar in lava-engulfed ruins.
Feeling a rage like none other, Hulk agreed to fly off with his surviving Warbound comrades and return to the true source of his misery: Earth. That story came to fruiting in WORLD WAR HULK, but what of the planet that the Jade Giant left behind?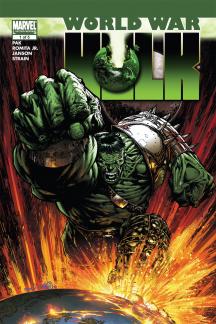 Well, as seen in SKAAR: SON OF HULK – simplified to just SON OF HULK on Marvel Unlimited – the planet kept on turning, even giving birth to not one, but two sons of the Green Scar. Skaar hardened himself in battle and even harnessed the full power of the Old Strong that ran through the planet. Meanwhile, Hiro-Kala, the twin, also began experiencing his own trials and tribulations on the harsh planet.
Galactus visited this place. The Silver Surfer had been drawn in by the same portal that grabbed Hulk during the original storyline, but he brought his master there in SKAAR. Thanks to the Old Strong power that flowed through the rock, Surfer figured that its energy could sate his master's hunger for 10,000 years. Skaar had his own plans, but so did other familiar faces who appeared in an attempt to save the planet.
Now, Amadeus Cho will see exactly how Hulk-like he can be in the place that both gave his namesake his greatest challenge and also one of his most cherished triumphs.
Flash Forward
The history of Sakaar was nicely chronicled in the pages of a one-shot called GLADIATOR GUIDE BOOK. The mostly-text issue goes into great detail about everything from the Tayo Star System that Sakaar inhabits to the geography of the planet. You also get to more fully understand the hierarchy that exists on-planet with the Imperials at the top who subjugate their own kind as well as the insectoid Natives, Shadow People and Spikes. All of these groups and ideas play important parts in Planet Hulk as well as all the ensuing stories set on Sakaar!
No Comments
Top
Download Episode 316 of This Week in Marvel
True Believers, are you watching "Marvel's The Punisher," streaming now exclusively on Netflix! Once you're done binge-racing the series, get yourself cozy with a brand new episode of This Week in Marvel, the official Marvel podcast!
This week's latest episode of This Week in Marvel is brought to you by Hasbro! Ben, Ryan and Tucker explore this week's new comics, including DOCTOR STRANGE, HAWKEYE, THE SPECTACULAR SPIDER-MAN, and more. Catch up on the latest TV and games news with Christine, Eric and special guest Tim Hernandez (1:07:48). Enjoy another special holiday edition of the Unlimited Reading Club (1:50:46), featuring an exclusive interview with artist Reilly Brown (1:42:32)!
Download episode #316 of This Week in Marvel from Marvel.com, check out Marvel Podcast Central, grab the TWiM RSS feed and subscribe to This Week in Marvel on iTunes, so you never miss an episode! We are now also on Soundcloud! Head over now to our new hub to listen to the full run of This Week in Marvel!

This Week in Marvel will focus on delivering all the Marvel info on news and new releases–from comics to video games to toys to TV to film and beyond! New episodes will be released every Friday (or so) and TWiM is co-hosted by Marvel VP & Executive Editor of Digital Media Ryan "Agent M" Penagos and Marvel Editorial Director of Digital Media Ben Morse, along with Marvel.com Editor Eric Goldman, Marvel.com Assistant Editor Christine Dinh, and Manager of Video & Content Production Blake Garris. We also want your feedback, as well as questions for us to answer on future episodes! Tweet your questions, comments and thoughts about TWiM to @AgentM, @BenJMorse, @chrissypedia or @Marvel with the hashtag #ThisWeekinMarvel!
No Comments
Top
The Despicable Deadpool Gets Ready to Kill Cable
On December 13, Deadpool kills Cable. Seriously, we're talking end of the road, kick the bucket, lights out kind of dead. Sure, Stryfe made him do it, but can you really make Deadpool do something he doesn't want to? Tune in to find out as writer Gerry Duggan, alongside artist Scott Koblish, reveal all in DESPICABLE DEADPOOL #290.
But wait, this tale packs more than just bestie drama, "I loved when the Dinosaurs poured out and attacked. I love Dinosaurs," teases Koblish.
Marvel.com: First off, can you give us the run down on what's going on in #290?
Scott Koblish: Man, I don't know if I CAN say what happens in this issue! Gerry, Nick, Joe, Jordan, Annalise, Heather and I worked really hard on this book, and while there are some really intense scenes in this arc, this issue is a particular peak. It's not called the DESPICABLE DEADPOOL for nothin'.
Marvel.com: Deadpool seems to jump back and forth across the line separating the morally good and bad. Murdering his buddy is safe to say a bad side move, so how is he dealing with this? Any justification for his actions?
Scott Koblish: You'll have to make up your own mind if he's justified in his actions. Wade has to make some really difficult decisions to be made over the next few issues, and even just as reader I am pretty shocked at where Gerry is going with this.
Marvel.com: How would you describe Deadpool and Cable's relationship?
Scott Koblish: Homicidal.
Marvel.com: What are your 2 or 3 all-time favorite Deadpool and Cable moments, the highest points in their relationship?
Scott Koblish: Each interaction is severely complicated – if I had to pick favorites, I'd say their initial meeting in NEW MUTANTS and killing Hitler.
Marvel.com: What 2 or 3 moments across their relationship stick out to you as particularly gut wrenching, their lowest friendship moments?
Scott Koblish: I kinda feel like it's NEVER been a good relationship.
Marvel.com: How is the tone of the book translated in the art?
Scott Koblish: I've been working really hard at trying to make the book look as gritty and disturbing – this particular story demanded a rough touch in the art.
DESPICABLE DEADPOOL #290
Marvel.com: Any twists or surprises heading our way that you want to tease?
Scott Koblish: No, too much relies on surprise right now. Mum's the word.
Marvel.com: What can we expect for Deadpool moving forward?
Scott Koblish: Awful, awful things.
Catch the final downfall of Deadpool and Cable in DESPICABLE DEADPOOL #290 by writer Gerry Duggan and artist Scott Koblish when it hits shelves on December 13.
No Comments
Top
First Look: Marvel Day at Sea on the Disney Magic
The time has arrived when the mightiest Marvel Super Heroes and menacing foes assemble on the Disney Magic to make the action-packed Marvel Day at Sea a reality! Now, enjoy your first official look at some of the exciting day-long entertainment and adventures that will transport you to a new realm of heroic possibilities…
"Marvel Heroes Unite"

For the first time ever, Marvel Super Heroes and Villains face off in an incredible battle at sea! The super-charged nighttime show fills the upper decks with special effects, stunts and pyrotechnics and music. The epic finale culminates in the largest collection of Marvel Super Heroes and Super Villains ever assembled on a cruise ship.
"Doctor Strange: Journey into the Mystic Arts"

In a brand-new interactive show, sorcerer supreme Doctor Strange invites guests to join him on a journey of discovery into the world of the Mystic Arts.
Black Panther's Debut

Making his very first appearance as part of a Disney vacation experience, Black Panther shares his secrets of super reflexes and extraordinary intellect during up-close encounters.
Heroic Encounters

Around the ship, you may happen upon your friendly neighborhood Spider-Man, who is always quick with a word of encouragement and helping guests hone their Spider-senses. Other Marvel Super Heroes you may encounter onboard include Captain America, Iron Man, Thor and Black Widow, to name just a few.
"Mickey and Friends Super Hero Celebration"

Even Disney characters are getting in on the action! Mickey, Minnie, Donald, Daisy, Goofy, Pluto, Chip and Dale dress up to honor their favorite Marvel Super Heroes.
Marvel Day at Sea is on select 7- and 8-night Disney Cruise Line sailings from New York this fall, and returns on select 5-night Western Caribbean cruises from Miami in early 2018.
No Comments
Top
Kirby 100: The Coming of…Sub-Mariner
1917 to 2017: 100 years of Kirby.
Join us to celebrate Jack "King" Kirby's 100th birthday by learning about the characters and stories he created that changed comics forever. To commemorate Jack's centennial, we've sat down with the modern-day creators he influenced—and the decades of work he gifted us all.
Together, Stan Lee and Jack Kirby brought so much to the Marvel Universe, ranging from heroes and villains to iconic locales and whole races. However, they also established a great deal of relationships that remain relevant to this day. We, of course, know all about the connections between the Fantastic Four and even longtime comrades like the Avengers, but Lee and Kirby also established romantic bonds between characters, including the long and complicated one between Sue Storm and Namor!
It all began in 1962's FANTASTIC FOUR #4 when Reed and Sue blamed Ben for chasing Johnny off in the previous issue. With one of their own flying solo, the other members of the team split up to track him down. Thing found the Torch working on a car with his buddies, but they fought, Ben changed back into his human form and Johnny ran off. After renting a bed at a men's hotel in the Bowery, the youngest FF member met a man dealing with amnesia who also happened to be super-strong. After a flame-assisted shave, Johnny quickly realized the mystery man's true identity: Namor, the Sub-Mariner!
To help jog his new friend's memory, the Torch dropped Namor into the ocean, which brought all of the Golden Age stalwart'ss memories rushing back. Unfortunately for us surface-dwellers, the Sub-Mariner soon discovered that his underwater home had been ravaged by radioactivity left over from nuclear weapons testing. With that, Namor swore to have his revenge on mankind, even blaming Johnny Storm for waking him up to these atrocities. The Human Torch sent up a flare to get his partners' attention. At that same time, the displaced ruler of Atlantis plunged the ocean's depths to rouse a whale-like behemoth called Giganto!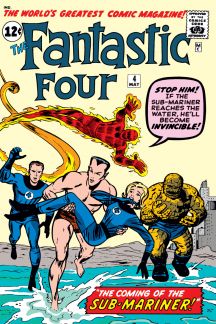 As the beast laid waste to New York City, The Thing decided to do the only thing that made sense: he strapped a nuclear bomb to his back and walked straight into Giganto's maw! The plan worked, destroying the monster in the process. Unperturbed, Namor raised his creature-calling horn to summon more when Sue Storm used her invisibility powers to sneak up and snatch the instrument away. Upon seeing the Invisible Girl's true form, the Sub-Mariner became instantly smitten. He even offered to spare humanity if Sue agreed to marry him. She quickly rebuked his ridiculous offer, which did not sit well with the arrogant king. At that point, Human Torch turned on the turbo jets, creating a cyclone that carried Namor back out to the ocean so he could cool off.
Far from the best meet cute in the history of comics, this initial meeting between Sue and Namor has led not just to further flirtations, but also more than a few alternate realities where the two actually got together and ruled the planet!
Stay tuned to Marvel.com for more throughout Kirby Month and beyond! And join the conversation on all of our social channels with the hashtag #Kirby100.
No Comments
Top
Falcon: Windy City War
Masquerading as the mayor of Chicago, the demon called Blackheart has declared The Falcon public enemy number one.
On December 13, writer Rodney Barnes and artist Joshua Cassara present FALCON #3! With Sam Wilson on his heels—and his young partner, Rayshaun Lucas, unable to handle the fight alone—how will the Windy City fare?
We caught up with Rodney to find out more.
Marvel.com: Blackheart's been knocking around for a little while—do you have a favorite appearance?
Rodney Barnes: His first, in DAREDEVIL #270, which, from my hazy recollection, saw Spider-Man and Daredevil fighting Blackheart. There was something dope about heroes associated primarily with foes of a similar strength-level then fighting a demon. Plus the kid version of me thought the name "Blackheart" sounded cool.
Marvel.com: What made him stand out in your eyes?
Rodney Barnes: His look and size were just brutal. Everything about him screamed evil. He can't be reasoned with and every appearance he made in a storyline confirmed that.
Marvel.com: So what made him the perfect villain for this storyline?
Rodney Barnes: Returning Sam to the street after his high-profile adventures of late had to have meaning. I wanted him to wrestle with his inner demons, but have it play out in a unpredictable way. Blackheart fit the bill because he stands above Sam's power level, but not so much so that he doesn't still have to scheme and manipulate to achieve his goals. That meant at some point he'd have match wits with Sam. And there, our hero has the advantage.
Marvel.com: How does he get under Sam's skin? Does Sam have what it'll take to battle such a supernatural powerhouse?
Rodney Barnes: Sam has been wrestling with doubts and regrets from both his past and recent events. Demons exploit those dynamics in people and Blackheart continues in this tradition. I believe Sam is bigger than his regrets, but defeating the son of the devil is no simple task.
Marvel.com: How has working with Joshua Cassara been on this story? What do you see as his greatest strengths?
Rodney Barnes: Josh's art is incredible! I love his ability to go from the gritty urban environment to space, Hell, and everyplace in between. I'm grateful to have him as a partner in this. Plus he put me in a fight scene in issue #3, so he's earned free dinners for life!
Marvel.com: Last question…might we see Blackheart's dad anytime soon?
Rodney Barnes: Yes, you'll see Dad pretty early on, as well as a few other evil devil baddies. Let's just say one of them doesn't like being shown up by Sam. There'll be hell to pay!
FALCON #3, by Rodney Barnes and artist Joshua Cassara, drops on December 13!
No Comments
Top
Marvel Entertainment Appoints C.B. Cebulski as New Marvel Comics Editor-in-Chief
Marvel Entertainment, the world's most prominent character-based entertainment company, announced today that C.B. Cebulski has been promoted to Marvel Comics Editor-in-Chief effective November 17, 2017. Former Editor-in-Chief Axel Alonso has mutually parted ways with the company. The announcement was made by Dan Buckley, President, Marvel Entertainment.
In his new role, Mr. Cebulski will oversee all day-to-day editorial and creative aspects of Marvel's publishing division. This includes driving the overall editorial creative vision, shaping the larger story direction of the Marvel Comics line-up, and bringing to Marvel the world's best and brightest writers and artists. Additionally, Mr. Cebulski will be furthering Marvel's efforts to expand the publishing division internationally.
During his more than 15-year tenure at Marvel, Mr. Cebulski has established himself as one of the industry's top editors, storytellers, and talent recruiters. His editorial and writing highlights include the hit comic book series, RUNAWAYS by Brian K. Vaughn and Adrian Alphona, and MARVEL FAIRY TALES. He is also a renowned talent recruiter, helping to sign the industry's top talent including Skottie Young, Adi Granov, Sara Pichelli, Phil Noto, Steve McNiven and Jonathan Hickman, among others.
Over the past 6 years, Mr. Cebulski has been at the forefront of Marvel Entertainment's global expansion, as both VP, International Development Brand Management and most recently VP, Marvel Brand Management and Development, Asia. In these roles, he has been instrumental in exploring new opportunities for Marvel in both emerging and established markets. Mr. Cebulski also paved the way for the further globalization of the Marvel Universe — overseeing groundbreaking deals with manga publisher Kodansha in Japan, webcomics platform Daum in Korea and content creator NetEase in China, bringing Marvel to Asian markets through localized stories and characters. He has also helped introduce fresh new creative styles to the company's world-renowned Super Hero franchises across comics, animation and games through the recruitment and development of numerous international artists and writers.
"C.B. is one of the most well-known, liked and respected editors and personalities in the comics industry. He has a keen understanding of the Marvel brand, and knows the importance of publishing within the larger Marvel ecosystem," said Dan Buckley, President, Marvel Entertainment. "As our characters continue to reach unprecedented levels of global popularity, we need to ensure our core comic business sets the standard with fresh and compelling graphic storytelling that excites both our longtime fan base and new fans. Marvel has set a high bar for super hero stories for over 75 years, and we believe C.B. is perfectly positioned to take Marvel Comics to new heights."
Mr. Cebulski takes the helm at Marvel Comics at a time the division continues to dominate the market. Marvel consistently leads in both market and dollar share, with Marvel comics regularly in the top 5 best-selling in the industry. Over the past five years, comics and collections sales have grown over 30% in the direct market and 60% in the book market. He is inheriting a buzzed about line-up of high-profile initiatives including Marvel Legacy, Venom's 30th Anniversary, and the AVENGERS: NO SURRENDER weekly series.
Additionally, Mr. Cebulski will be tasked with bringing his global perspective to his new role. He will be working closely with comics partners like Panini, NetEase, Daum and Kodansha to expand the everyday Marvel Comics experience for fans across the world.
"Spending these last 18 months in Asia, and introducing more fans here to the depth of the Marvel Universe, I've seen firsthand how our comics and characters constantly bring joy into people's lives all over the world. I hope to continue capturing that creative magic here at home, and deliver inspirational and entertaining stories that are true to the classic Marvel DNA, but built with an expanding global mindset."
Mr. Cebulski is relocating from Shanghai to New York.
C.B. Cebulski
About Marvel
Marvel Entertainment, LLC, a wholly-owned subsidiary of The Walt Disney Company, is one of the world's most prominent character-based entertainment companies, built on a proven library of more than 8,000 characters featured in a variety of media over seventy-five years. Marvel utilizes its character franchises in entertainment, licensing and publishing. For more information visit marvel.com. ©2017 MARVEL
For media inquiries, please contact:
Timothy Cheng
Marvel Entertainment
tcheng@marvel.com
212-576-8500
No Comments
Top
The Women of Marvel 2017Holiday Gift Guide
The Women of Marvel bring you the third annual Holiday Gift Guide Podcast! Hosts Judy Stephens, Christina Harrington, Lorraine Cink, & Heather Antos chat their favorite picks for this season! Mixed by Rick Coste.
Listen to the Women of Marvel – Episode 157 now!
Mixed by Rick Coste.
——————–
Christina's Picks
To Read: X-Men Grand Design #1 by Ed Piskor (on sale 12/20)
To Wear: Thor Winter Hat from Think Geek
To Play: Codenames (Marvel Edition)
To Watch: Marvel's Punisher on Netflix
Judy's Picks
To Read: Subscription to Marvel Unlimited
To Wear: Loungefly Backpacks
To Play: Geeki Tikis, Guardians of the Galaxy, including Baby Groot
To Watch: Guardians of the Galaxy Vol 2, Digital download

Heather's Picks
To Read: Star Wars: Darth Vader by Kieron Gillen Omnibus
To Wear: Web of the Spider-Man Sweater
To Play: Guardians of the Galaxy TellTale Game
To Watch: Marvel's Black Panther Trailer

Lorriane's Picks
To Read: Ultimate Marvel from DK Publishing
To Wear: Her Universe Loki dress
To Play: LEGO Marvel Super Heroes 2
To Watch: Hulu Subscription for Marvel's Runaways
——————–
The Women of Marvel podcast assemble to chat all things Marvel and more! New episodes will be released every Thursday, co-hosted by Marvel Director, Content and Character Development Sana Amanat, Marvel.com Producer Judy Stephens, along with Assistant Editor Christina Harrington.
Have feedback or questions? Email us at WomenOf@marvel.com, or tweet your questions and comments to @Marvel with the hashtag #WomenOfMarvel.
No Comments
Top