Section: Comics
Secret Empire Exposed: Captain Marvel
Each week, we use our super sleuth skills to dig into the histories of the characters fighting on both sides of Secret Empire!
SECRET EMPIRE #0 saw Captain America's Hydra agenda come full circle as he assumed control of the world governments through S.H.I.E.L.D., isolated New York City in the Darkforce Dimension, and blocked Alpha Flight with the planetary defense shield. That last one seemed particularly aimed at Captain Marvel. In fact, Cap even fully explained that he'd had a Chitauri queen hidden on planet, which meant her people would never stop coming for her. In other words, the extra-terrestrial pummeling would never end.
If she had time to reflect on how she got to that point, Carol would remember taking the job as head of Alpha Flight after the events of Secret Wars. In the volume of CAPTAIN MARVEL that launched in 2016, she assumed control of the group working out of the Alpha Flight Space Station putting her in charge of a full staff plus the likes of Puck, Aurora, Sasquatch, and Abigail Brand. Their mission? Stop space threats from reaching the Earth.
The first adventure put her and the team in direct opposition to an alien race that didn't take kindly to her Kree genetic signature after people from that particular planet nearly wiped them from existence. Soon after, Carol re-purposed her group to utilize the information coming from the Inhuman Ulysses to save the planet during Civil War II. The crossover also ran through A-FORCE and ULTIMATES, two team books that Carol also regularly appeared in. Captain Marvel's desire to use Ulysses to save the world, even if he's wrong every now and then, didn't sit well with everyone, including Iron Man who worried more about someone else using that information for the wrong reasons.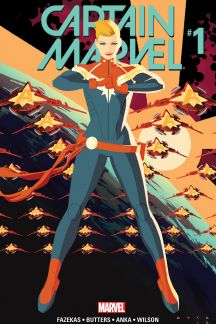 The event ended with Carol's boyfriend Jim Rhodes dead, her longtime friend Jennifer Walters beaten comatose, Tony Stark out of commission, and the hero community once again left in a shambles. Yet, in the pages of her new series MIGHTY CAPTAIN MARVEL, Danvers found herself dealing with not only newfound fame, but also the impending Chitauri invasion. This week's MIGHTY CAPTAIN MARVEL #5 actually takes place before the events of SECRET EMPIRE #0, showing how Carol started training a group of Alpha Cadets and also fought the first wave of invaders with the Guardians of the Galaxy, some of the Ultimates, and other heroes before getting the news that Cap had betrayed them.
SECRET EMPIRE #1 skipped ahead to show a world where Hydra had already taken control. We saw Captain Marvel sending out a distress signal to anyone who might hear saying that Earth needed help, noting that this threat could easily spread to their planets. As long as she's still up there, humanity has a hope!
The Empire Strikes Back
The alien menace known as the Chitauri first appeared in the Ultimate Universe in the pages of the original ULTIMATES. They would show up to menace that reality on more than one occasion, but blew up to nearly a household name after becoming the main threat in the first Avengers film! The aliens first appeared in the Marvel Universe in the pages of NOVA to hassle Sam Alexander. Thanks to a stolen Ultimate Nullifier, though, he made short work of them.
No Comments
Top
Follow the History of Spider-Man Pt. 4
For over 50 years, Spider-Man has been a sensational standout in the Marvel Universe, and this summer, the web-slinger swings onto the silver screen once more in "Spider-Man: Homecoming"! In celebration of this stories history, we present Spidey's spectacular step-by-step story!
Spider-Man sought the expertise of Dr. Curt Connors in AMAZING SPIDER-MAN #32 to help him devise a serum to cure Aunt May's poisoned blood, but Doctor Octopus stood in his way when he stole the isotope that would insure the formula's potency. Later, trapped in rubble from a battle in Ock's base, the Wall-Crawler used all his spectacular strength and resolve to free himself in AMAZING SPIDER-MAN #33 and save his ailing aunt.
Kraven the Hunter returned for a rematch in AMAZING SPIDER-MAN #34, as well as Molten Man in AMAZING SPIDER-MAN #35, but the webbed wonder dispatched both with little fuss. Later, Spidey tangled with Daredevil in DAREDEVIL #16, but the two costumed champions buried the hatchet in DAREDEVIL #17 to join forces against the real menace: The Masked Marauder.
Norman Osborn, businessman father to Peter Parker's friend Harry Osborn, ducked and covered in AMAZING SPIDER-MAN #37 to avoid the wrath of Professor Stromm's robot, and a man named Joe Smith attracted the Web-Slinger's interest when his new acting career turned sour due to an unfortunate electrical accident in AMAZING SPIDER-MAN #38. Meanwhile, Norman placed a hefty pricetag on Spidey's life that brought creeps out of the woodwork to collect.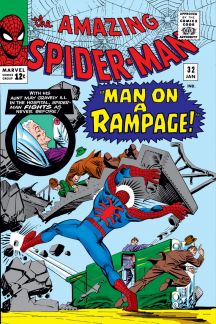 Alas, Parker found bigger things to worry about when none other than The Green Goblin swooped down out of the skies in AMAZING SPIDER-MAN #39 to capture the youth and inform him that he knew our hero's secret identity. In AMAZING SPIDER-MAN #40 the crazed tycoon regaled Peter with a tale of an explosion that created his Goblin persona, but when he suffered exposure to another blast during his subsequent battle with Spider-Man, the Green Goblin persona faded from his memory, seemingly forever.
The rampaging Rhino attempted to abduct astronaut John Jameson in AMAZING SPIDER-MAN #41, prompting the Wall-Crawler to swing to the rescue. Afterward, Jameson gained super-strength from space-spores and tried to capture Spidey for the public good in AMAZING SPIDER-MAN #42. To add insult to injury, Rhino busted out of lock-up in AMAZING SPIDER-MAN #43 to claim his revenge on our hero.
Earth's Mightiest Heroes convened in AMAZING SPIDER-MAN ANNUAL #3 to ponder membership for Spidey, and after a recommendation from Daredevil decided to test the Web-Slinger. Ultimately, Spider-Man failed his trial when he refused to capture The Hulk, believing the jade giant's alter ego Bruce Banner to be too sickly to stand scrutiny by the Avengers.
Not long after, the X-Men approached the young crusader to bolster their own ranks against a new mutant menace in UNCANNY X-MEN #27, but Spider-Man turned them down, claiming he'd been too busy of late to focus on such things.
No Comments
Top
DC Comics 101: Meet the Beetles
DC Comics 101: Meet the Beetles Legacy can be a tricky thing for super heroes, especially the ones that got their start back in the Golden Age. Take, for instance, Blue Beetle. Read more
No Comments
Top
DC Rebirth Collection Sweepstakes
DC Rebirth Collection Sweepstakes This is Your Chance to Be Our Grand Prize Winner!For all of the DC Rebirth fans out there! One lucky grand prize winner will win an amazing prize pack that includes: Read more
No Comments
Top
Sorcerers Supreme: Death to The Author
The Author threatens all existence. In DOCTOR STRANGE AND THE SORCERERS SUPREME #9 by Robbie Thompson and Javier Rodriguez, the team of magic casters decides such a risk cannot be ignored and so they take the fight to it where it lives. Can they possibly hope to defeat an opponent on its home turf when they barely annoyed it here on Earth?
We breathlessly reached out to writer Thompson for some reassurance. He had little.
Marvel.com: In order to defeat The Author, the Sorcerers have to give chase into its land. How did you conceptualize this sure to be unusual space? How did Javier Rodriguez bring your ideas about that realm to life?
Robbie Thompson: As always, I turned to my magical partner in crime, artist Javier Rodriguez. Working with Javier is incredibly inspiring as a writer. He has such a strong visual sense of storytelling and an incredible grasp of design and layout. When he first designed The Author, all I told him was the character's true origins—spoiler alert!—that he's actually an alien. Javier took it from there.
And that's how editors Darren Shan and Nick Lowe and I approached the Author's home world, which we'll see a hint of in issue #8, but then in great detail in issue #9—we turned to Javier and set him loose. And boy, did he deliver! So, all credit belongs to Javier; he took a few very simple ideas and made them elegant and magical.
Marvel.com: What state are the Sorcerers in? Do they trust one another? If not, how do they view one another?
Robbie Thompson: The Sorcerers are pretty shook up by the betrayal of one of their own, Sir Isaac Newton. But in a sense, that betrayal has now forced them all to be on the same page. Newton was a problem, but he's inadvertently conjured a much bigger problem for them all by summoning The Author to Earth. So, our hope is that if they survive this encounter, they'll come out the other side a much stronger team.
Marvel.com: Given the Author's ancient existence, is it really consequence free to eliminate him? What risks might the team be running?
Robbie Thompson: They'll be risking their lives! The Author is an extremely powerful foe for them, and as we see in issues #8 and #9, the magic of the Sorcerers does little to no damage to this adversary. They're going to have to find a much different rabbit to pull out of the hat in order to best this foe!
Doctor Strange and the Sorcerers Supreme #9 cover by Javier Rodriguez
We wanted to continue to put our heroes in deeper and deeper trouble, while keeping the escalation connected to the source of this story: Merlin. So, we've been building toward this reveal since the first issue—with Newton waiting in the wings to turn on his fellow Sorcerers, his blind ambition exposing our heroes to a being more powerful than any they've faced so far.
Marvel.com: How does The Author view them? Do they elicit any kind of emotion at all?
Robbie Thompson: The Sorcerers are nothing but annoying gnats to The Author! He finds them all disappointing and weak! But arrogance is a weakness, too, and hopefully the Sorcerers will find a way to exploit that weakness in issue #9.
Marvel.com: As you look to the end of this arc, any last teases to offer to get the fans clamoring for it?
Robbie Thompson: Javier, inker Alvaro Lopez, colorist Jordie Bellaire, and letterer Joe Caramagna really outdid themselves with these last couple issues, culminating in a visually stunning ninth issue. They all really raised their game and delivered one of the best issues of the series. Javier's design and layouts are mind-blowing and Alvaro's inks are so textured and rich. Joe always finds a way to bring the characters' voices to life in new and brilliant ways. And what can you say about Jordie Bellaire? She's an absolutely incredible storyteller and her colors are astonishing. The whole team is amazing.
And that's not all! In issue #10, young Nate Stockman and Tamra Bonvillain are back in [a story] that's set in the future and features some of my all-time favorite mutants. Nate clearly had a blast working on that [one], it's some of his best work to date, and I can't wait for folks to see it!
Take a trip with Robbie Thompson, Javier Rodriguez, and company in DOCTOR STRANGE AND THE SORCERERS SUPREME #9 on June 28!
No Comments
Top
Droids Unplugged: High Tech Highlights
R2-D2! BB-8! And Darth Maul's probe droids!? On June 28, make the jump to lightspeed alongside some of the universe's greatest mechanized companions with STAR WARS: DROIDS UNPLUGGED!
Written and illustrated by Chris Eliopoulos, this one-shot details three brand-new Star Wars stories—follow R2 on a crucial mission for Luke, witness BB-8 play matchmaker for a couple of Resistance soldiers, and see what Darth Maul's probe droids did when they weren't busy scouting for Qui-Gon Jinn!
To prepare for the book, we spoke with Eliopoulos, colorist Jordie Bellaire, and assistant editor Heather Antos about their favorite droids—and droid moments—in Star Wars history.
Marvel.com: There are so many incredibly-defined droids that act as main characters in the Star Wars universe—so, what's your favorite droid that plays a central role in the Star Wars story? BB-8? Triple-Zero? Chopper?
Chris Eliopoulos: From the first time I saw "Star Wars" as a nine-year-old boy in the theater, I loved—loved—R2-D2. I currently have about 300 astromech droids in my studio. Really small ones to a giant R2 cooler. He's the man—or droid. R2-D2 seemed to always know what was going on as well as being brave and snarky. It was something new for me. A machine that was cool.
Jordie Bellaire: I think my answer was always R2, he's sassy and a bit bossy, but I think K-2SO has taken the love cake. He's not only sassy and bossy, he's pretty cynical—my kind of droid!
Heather Antos: Artoo, hands down, is the best Star Wars droid. Whereas all the other characters always seem to be getting into trouble…Artoo always seems to be the one to get his best pals out of trouble.
Marvel.com: Likewise, there are countless minor droids that the we might only see on the fringes of a Star Wars story. What's your favorite background droid? Uncle Owen and Aunt Beru's Gonk? IG-88? FLO the waitress?
Chris Eliopoulos: I love Treadwell, 2-1B and even the EV-9D9 droid that harmed my favorite, which is the Gonk droid. I have all these astromech droids in my office, but there is room for one Gonk droid.
A small nod has to go to RX-24 or Rex from the Star Tours ride. He was a lovable goofball.
Jordie Bellaire: I've always loved the design of an Imperial probe droid. Not to say I'm a baddie but you know, the baddies have some beautiful equipment to search out that rebel scum. Probably explains my K-2SO love as well!
Heather Antos: Gonk! I love Gonk so much—and I honestly can't explain it. I think there's an epic story with Gonk just waiting to be explored. I bet there's so much of him that we just don't know about yet.
Star Wars: Droids Unplugged cover by Chris Eliopoulos
Marvel.com: Time for some hard-hitters…What's your favorite droid moment in a Star Wars comic book?
Chris Eliopoulos: I kinda have a perverse love of seeing Chewbacca ripping Triple Zero's arm off and smacking him with it in STAR WARS #13. It follows the line that Wookiees tend to rip arms out of their sockets when they get angry line.
Jordie Bellaire: The psych out hologram of R2-D2 in PRINCESS LEIA #1!
Heather Antos: Any interaction between Triple-Zero and BT-1!
Marvel.com: And the toughest of all—what's your favorite droid moment in a Star Wars movie?
Chris Eliopoulos: The scene in ["Empire Strikes Back"] where they are racing to get to Boba Fett to save Han and as they watch Slave-1 takes off, a blaster fight out breaks out on the platform and R2 seems to do donuts. In my young head, I thought he was being brave and blocking fire to protect his friends. A heroic moment.
Jordie Bellaire: The Ewok campfire scene, where 3PO is playing storyteller.
Heather Antos: One of Artoo's most heroic acts by far was rolling into the arena on Geonosis to reassemble his best buddy, C-3PO. Artoo will stop at nothing to help his friends!
STAR WARS: DROIDS UNPLUGGED, written and illustrated by Chris Eliopoulos, goes on sale on June 28!
No Comments
Top
Black Panther: Mastering the Past
Wakanda just can't catch a break!
In BLACK PANTHER #15—out June 28—the African nation comes to understand that its ancient gods have left them to their own devices. While King T'Challa tries to figure out what's going on, writer Ta-Nehisi Coates and artist Wilfredo Torres continue to throw challenges his way.
Torres took over for fellow artists Brian Stelfreeze and Chris Sprouse–who will return–with issue #13 and kicked off the new storyline "Avengers of the New World." The arc dives into all kinds of beginning-of-time mythology that the artist gets to play with and develop. We talked with him about dreaming up some of these characters, putting his own spin on existing ones, and diving into the world of Wakanda.
Marvel.com: How was it coming up with the designs for the Simbi, Anansi and Teku-Masa? Did you look to ancient images for inspiration in developing them?
Wilfredo Torres: I tried to look at species native to Africa but ultimately I tried to not go too far down the rabbit hole and instead went with more of a traditional comics, movie monster feel.
Marvel.com: Wakanda has such a unique feel and history to it. How has it been getting familiar with that world?
Wilfredo Torres: It's a fantastic setting with all the elements you could ask for; a beautiful natural environment, a technological marvel married to tradition. It's really a wonderful backdrop for any storyteller.
Marvel.com: Black Panther himself has such a sleek, seemingly simple design. Is it difficult putting your own spin on that costume?
Wilfredo Torres: It's deceptively simple really but Brian Stelfreeze had such a great approach to it so I just tried to follow in that same direction.

Marvel.com: How do you feel your collaborative relationship with Ta-Nehisi has evolved since you started working together?
Wilfredo Torres: Ta-Nehisi's scripts play out like massive cinematic scenes and they also have these wonderful personal moments which I love working on. It's been great to collaborate with him on this as well as [colorist] Laura Martin and the entire team.
BLACK PANTHER #15 by Ta-Nehisi Coates and Wilfredo Torres arrives on June 28.
No Comments
Top
Star Wars: A Screaming Good Time
This month, writers Jason Aaron and Kieron Gillen find themselves about halfway through their second intergalactic narrative crossing over STAR WARS and DOCTOR APHRA, and fans find themselves in the midst of a dinner party gone horribly wrong with the Queen of the Screaming Citadel deprived of her main course: Luke Skywalker! Not surprisingly, we see Doctor Aphra in the middle of it all as she and Luke attempt to escape the wrath of the planet's monarch all the while seeking to unlock the mysteries of the Jedi crystal.
As we round the bend towards the mid-point of this event, we sat down with co-writer Kieron Gillen, to discuss what we've seen so far and what we can expect around the next corner.
Marvel.com: When we first spoke about "The Screaming Citadel," we discussed the similarities to other pulpy horror adventures like "Indiana Jones and the Temple of Doom." Given where things left off with the second issue of the story, I'd say that comparison was a pretty good one given the scene at the breakfast table…
Kieron Gillen: Of course, the other comparison would be that Sana and Aphra clearly had some "Bad Dates."
Marvel.com: Do you have any other similar surprises in store for readers?

Kieron Gillen: Nope. Nothing happens in the remaining three issues. I'm not sure what we were thinking. We've decided to move into a weirder slice of life direction, where Han and Leia sit down with 000 and BeeTee and experiment with crochet.
Marvel.com: We also discovered that Aphra intended to feed Luke to the Queen. How do you bounce back from that sort of discovery if you're Luke?

Kieron Gillen: Luke and Aphra's relationship certainly ricochets around across the story. You have to suspect that the latest experience does put a general downer on it. Luke has tended to idealize Aphra. It's hard to hang onto that when someone's tried to feed you to an alien queen.
This is all written from experience. I had a friend who tried to feed me to an alien queen. Our relationship was never the same, but we're at least polite in public now.
Marvel.com: On the other hand, how do you suppose Aphra convinces the Queen to unlock the secrets of crystal now that she's blown her dining room?

Kieron Gillen: With great difficulty.
That said, it's a big house. The Queen's probably got a lot of dining rooms. And we've seen in the first issue she prefers to eat while standing on a balcony. Kind of Al Fresco.
Doctor Aphra #8 cover by Marco Checchetto
Marvel.com: Of course, we also have the secondary story you're developing in the background with Han, Leia, and Sana who are trying to catch up to Luke and Aphra. Why is it that Sana is so reluctant to fill Han in on her past with Aphra?

Kieron Gillen: Because it's deeply embarrassing, for one. Maybe that's the main one; Sana and Han have a complicated relationship, and letting Han know the details would make her never live it down.
Of course, Sana is the person who told Aphra where they were. If she hadn't done that, Aphra would have never been able to convince Luke to go with her. The more that Han knows, the more likely they'll piece it together.
Marvel.com: Once the two groups reunite, we're going to see Sana and Aphra come back together again. While Sana seems to be finding a place for herself in the Rebellion, Aphra doesn't appear to be slowing down any. Do we get any idea of what happens next for them as the series continues?

Kieron Gillen: Oh, it's certainly a heart-warming moment when they meet up. Possibly literally, in terms of having a blaster bolt setting Aphra's heart on fire.
Marvel.com: Now, let's pretend there's a "happy ending" for this Star Wars horror story and Luke gets to learn a little more about being a Jedi after the secrets of the crystal are unlocked. But up to this point, Aphra hasn't tipped her hand yet. What does she get out of all of this?

Kieron Gillen: The most messed up thing in all of this is Aphra's been relatively clean on her aims. She wants to reactivate the Rur crystal. Where she hasn't been honest is her main motivation, which is to sell it for enormous amounts of cash.
Marvel.com: Last question: What's the deal with the Wookie allergies on this planet?
Kieron Gillen: It's less of an allergy, and more of an intolerance. More next issue, shall we say?
"The Screaming Citadel" winds its way into DOCTOR APHRA #7 on May 31, then on to STAR WARS #32 on June 14, and finally back to DOCTOR APHRA #8 on June 28!
No Comments
Top
Elektra: House Money
Unlike most visitors to Las Vegas, Elektra will be getting gone when the getting is good.
Before the lethal lady grabs the next flight out of the glittering glitzy desert, however, we cajoled ELEKTRA writer Matt Owens to talk about how her time on the Strip changed her and what he learned about Ms. Natchios over the course of this series.
Marvel.com: Obviously, when you start the pitch for a character you have a distinct idea of him or her. However, over time, often, that perspective may evolve and change. In writing ELEKTRA, how did the titular character evolve for you? Where did she start and where did she end up in terms of how you thought of her?
Matt Owens: I learned an important lesson as I watched Elektra do the same throughout this story. I think Elektra is very similar at the beginning and the end of this story. The lesson learned is that that is ok. We are who we are. Failures, faults, fears. Elektra was running from a lot but ultimately she was running from herself. At the end of this series, she is not running anymore.
Marvel.com: Continuing that thread of how Elektra changed within the book, how do you see her trip to Sin City as having made her over? What ramifications can you imagine these changes having down the road?
Matt Owens: I think the biggest ramifications are going to be for those who have screwed her over most recently. After her most recent run-in with Daredevil, she tried to escape all the pain and bull. Now she realizes that there is nowhere she can go where someone will not be messing with her. So it's going to give her a great drive heading back to New York. She has certain people in her [crosshairs] and she is a newly motivated Elektra.
Marvel.com: One aspect that you really dug into in the book is how Elektra's past echoes into her future. Now this can be said for all of us, but why is it especially true for her? Do you view those echoes as helping her or imprisoning her in her current life?
Matt Owens: They do both.
One of the themes of this book is how your past informs your future. Are either of those two things escapable? Are they intricately intertwined? We see how Elektra deals with failing to save people. It's a hang-up of hers from her early days of trying to be a hero. And it has a big impact on her in the present day story.
Similarly, her future seems to be rooted in her past as well. Both in the place and people it will involve. It's inescapable. Which can be a frustrating realization to come.
Marvel.com: Artistically, how did your collaboration with Juan Cabal progress? How did you two aid/push each other creatively?
Matt Owens: Working with Juan was one of the most fun parts of this book. I make a lot of references to things in my scripts. It's how I think and talk. Juan and I very quickly learned that we love the same sorts of things.
Elektra #5 cover by Elizabeth Torque
I would make a reference to the One Piece manga and he would visually know what I was getting at. I would make a Final Fantasy reference and he would come back with something even bigger and better than I imagined. You can definitely see the visual influences on our version of Murder World. It ends up being our sort of homage to Gold Saucer. It evolved over the course of the run as we got to know each other better.
We made each other laugh a lot and challenged each other and I think the book turned out great because of that.
Marvel.com: Making Arcade the central villain of the story certainly pitted Elektra against a nontraditional opponent. Looking back over the arc, what do you think that helped you reveal about your protagonist as a character? Similarly, what did putting Arcade against someone he doesn't generally cross swords with help you to explore or highlight about him?
Matt Owens: Going to Vegas was a selfish act on Elektra's part. Finally fed up with everything she has had to deal with in her life/lives, she chose to flee. But a hero does not get to give up his/her duty so easily. It was a difficult lesson to learn, but that was [what] Arcade forced her to see. That she is innately good. She will help people. She's had failures in the past, but that does not make her any less of a hero. On the physical side, it also solidified why Elektra is one of the deadliest members of the Marvel Universe. She got to show off a lot of skills in this story. It was fun having her in an unfamiliar environment and seeing how she would get herself out of certain situations.
Now for Arcade, going up against Elektra was the ultimate instance of flying too close to the sun. He had a lot to prove with this new Murder World. He was still dangerous, he was still entertaining, and he can still kill the best. He's desperate to try and reclaim his perceived seat at the high table of super villains. But as he explains to Elektra, even these current machinations are at the behest of someone else. He thought he could taste former glory, but it eluded him once again.
Marvel.com: Looking specifically at issue #5, why is it a must-have for any fans of Elektra the character or your ELEKTRA series?
Matt Owens: I think it helps solidify, for the universe and for Elektra herself, her importance and ties to New York. Specifically to characters like Daredevil and Wilson Fisk. The impetus for her flight to Vegas was an attempt to get away from things in her past. Matt, New York, heroism. Only to realize at the end that no matter what she does, she is inexplicably tied to those people [and] that place. It is her destiny. Whether she likes it or not.
That's a hard realization to come to. Elektra has been a tool used by so many people for a long time. Oftentimes feeling like her choices are not her own. This battle with Arcade and the implications behind it have proven that to be true to an extent. And that is not going to sit well with Elektra. Now she can return to her rightful corner of the universe and face the very things she was trying to push away head on.
Go all in on ELEKTRA #5 by Matt Owens and Juan Cabal, available June 28!
No Comments
Top